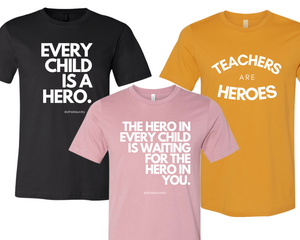 NEW / FEATURED PRODUCTS
We are excited to present our latest collection of clothing that promotes awareness and positive change. Our new products feature bold and meaningful designs that aim to educate and inspire. Whether you are looking to make a statement or simply want to support important causes, we have something for you.
Teachers Collection
The Teachers Collection is a brand that celebrates and supports dedicated educators. Our mission is to provide stylish, high-quality clothing that showcases teacher pride. We also advocate for equal pay and fair treatment for teachers, as well as for the rights and needs of minority students. By purchasing from us, you can support these important causes and positive change in education.
Black History Collection
The Black History Collection is a celebration of the rich culture and enduring legacy of Black individuals. Our line of fashionable, high-quality clothing is designed to showcase the pride and resilience of the Black community. As a brand, we are committed to advocating for social justice and equality for Black individuals, as well as for the preservation and promotion of Black history. By supporting the Black History Collection, you can join us in these efforts and help bring about positive change in our society.